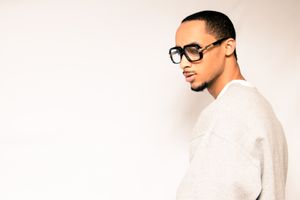 Know Me
Simply put, he is like no other. Wise beyond his years, youthful within his flow and so mellifluous with the stroke of his pen, the mastery behind his writing is, without a doubt, an incomparable gift and talent that cannot be taught, trained or obtained. To say "it has been done before" is a mere understatement. To be able to get into the minds of the people by channeling their inner thoughts, fears and emotions, both socially and metaphorically, with great wonderment is what makes Wise an elitist writer within his own right.
    His ability to put his signature stamp of rhythm and melody is undeniably heard and felt with every body of work; a style that is uniquely his alone. You can call it a dream, you can call it a trance but without questioning, you are bound to go on a mystic journey so vivid and captivating that it will leave you wondering how one individual could tell a story, your story, with such certainty and truth.
    An artist and his brush….
Painting pictures with his words first began at a time in a child's life when fascinations and dreams were fantasies in a story book.
Close your eyes and visualize….
In the beginning there was a precocious young south Florida boy, sitting in his first grade class, only with an imagination and a pencil.  It started with authoring a simple story book and later a hard lesson from Mom's weekly book reports in 6th grade that perfected Wise's craft. Never forgetting and never shying away from the importance of her expectations, which became an advantage that set him apart from the average teenager, Wise continued to carry those early home studies with him well beyond his teenage years.  
"I always knew I was destined to be something great, bigger than what I imagined. I was just unsure of how it would come about."  The time came for Wise to realize his purpose when he heard a friend recite a poem at a spoken word in his freshmen year of college. "When I heard it, I was like 'Yo, I can do that' and I went home and I did it. After that, people told me I was powerful."
But Wise didn't sell himself short. He realized his talent was endless and that it wasn't limited to stories and poems alone; there was more, there was music. Together, hand in hand, he knew music and poetry could not be separated and there was no distinguishing between the two. Without tying a tune or beat to his socially-conscious piece Black Butterfly, the flow is apparent and the message is a mere wake-up call to the Black male.  
A man and his pen….
Compassion, honesty, and sincerity is the foundation of his work, tied in with creativity, talent and a gifted mind. "My objective is to touch the soul of that person listening and reading.  I want to extract every tear, laughter,  anger and ecstasy dormant within them." Destined for what is manifesting into an ebullient ascension into the realm of entertainment and social activism,  Wise is positioning himself to shake the world.
What we are about to witness is beyond what the simple minded would dare to comprehend.  What we are sure to witness is the epitome of greatness at its best, and what is certain and will be proven, is that Tobe Wise's artistry is a force to be reckoned with.
Still,  with the "floetic" styles of Cole and Lamar, and the hypnotic sounds of Drizzy Graham hitting the airwaves, it's safe to say that even then,  "nobody is doing it like T."

If you're still not quite sure of which path to take, take the path of the wise.  Let him take you with him....